Why Wellness is the Perfect Gift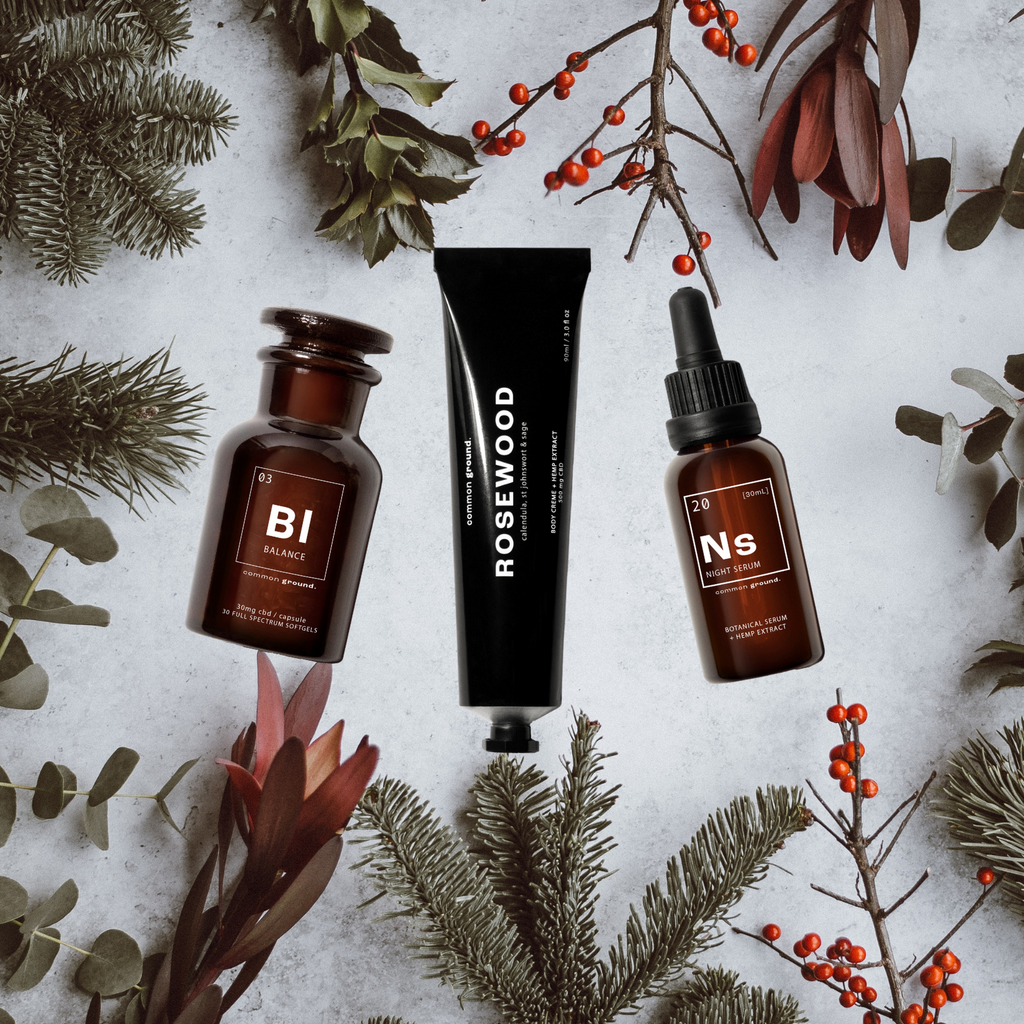 Over the years we have heard new customers say that it would be "awkward" for them to give CBD oil as a holiday gift because they feel like it is a dig at the fact that they have anxiety. But this year is a whole new ball game. Our customers are begging to be gifted their favorite wellness products to help them curb their anxiety, get back their sleep, and just feel better.
We definitely don't need to be reminded why all of our ailments are shining through this year. But considering anxiety, insomnia, chronic pain and inflammation, stress acne, stress headaches, migraines, panic attacks (these are issues our current customers have told us are amplified since March)... the list goes on - self care is essential! Gifting self care in the form of wellness supplements might be the most thoughtful gift you give this season.
So what gifts will work as a thoughtful wellness gift? It depends on the person and luckily for you, we have mapped out the perfect gift for each person in your life!
For The Person Who Is Always Tense
We are talking, so tense that tension headaches are constant, neck and back pain persist, and the thought of relaxing is laughable:
For this person we recommend a Rosewood & Freeze Gift.
Rosewood is packed with botanicals that target tight muscles and help the body relax into a healthy place. With ingredients like St Johns Wort that is known to be beneficial in combating depression, lavender that naturally calms the body and mind, and of course, hemp extract to target those tense body parts - this gift is sure to be a beautifully scented gift! 
The reason why we add Freeze for this person is because Freeze is incredible at attacking pain caused by tension headaches and is so aromatherapeutic for extra stressful days. It's easy to keep in a back pocket when the twinge of a headache starts or for when that neck pain is starting from holding tension for so long. Don't let this person go without Freeze again!
For The Person Who Can't Sleep
This might seem like an obvious choice but it's always nice to have a backup recommendation. Our number 1 selling oil and highly rated REST Tincture is what this person needs. REST was created to help balance out the sleep cycle. Rather than knock someone out with melatonin, this oil is carefully crafted with the perfect amount of CBN (another compound found in the hemp plant) and a powerhouse dose of CBD to help those restless sleepers finally relax their mind and body enough to get the sleep they need. And if pain is the reason they are laying awake wide-eyed, they'll be thankful you thought of REST for them. The high dose of CBD helps attack pain so sleep can finally be a normal thing again. This will be a gift they won't forget!
For The Person Who Always Worries
Worrying constantly can also be classified as anxiety. If you have a friend or family member who is always worried, they are going to love Balance. It is an easy CBD capsule that they can take every morning to help them stay cool and collected all day long. Not only does it work incredibly well, it comes in a beautiful apothecary jar to remind them that life is short, enjoy the beautiful things. We promise, they will love it!
For The Person Who Is Shifting To A Plant Based Lifestyle
I know you have at least one person in your life who chose to follow the plant-based life this year. With everything going on, focusing on things we can change (the things we eat, the things we put on and in our bodies, etc) helps us to feel like we have some semblance of control. 
For this person we recommend our Night Serum.
Night Serum is a beautiful combination of anti-inflammatory, anti-bacterial botanicals that also repair the skin, increase collagen production, retain moisture, and even skin tone. All natural and all 100% plant based. This is the serum plant-based lovers dream of. As clean as it gets and a perfect gift.
For The Person Who You Don't Know What To Get
And if nothing else, our Wellness Teas are a perfect gift no matter who you are shopping for! With blends like Masala Chai, Sencha, Earl Grey, and a non-caffeinated Relaxation blend, there really is something for everyone!
Still unsure about a perfect wellness gift? Send us an email or DM us on insta. We'll help you craft a perfect gift for the ones in your life!